A Mechanism to Increase Your Clinic's Revenue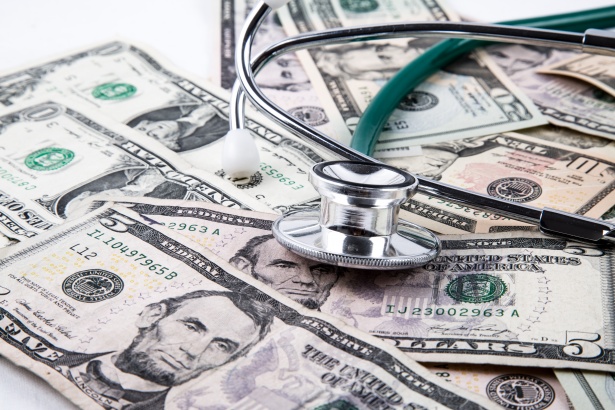 Quick Tips:
Find affordable and valuable healthcare solutions for your patients.
Borrow from big tech: pass a marginal cost onto your patients frequently.
Price it in, not out; it works better for you and your patient.
Look to healthcare solutions as business growth factors, not just examinations.
Healthcare is the largest employer in the United States and has a total expense of $3.65 trillion in 2019.
Medicine and its activities are the single largest employer in the United States. The U.S. Department of Labor reports that just over 34 million are employed in the Education and Health Services industry which is nearly double that of the second-place industry, Retail. Unsurprisingly, this aspect of the United States economy has one of the most significant cash flows seen in modern industry, with 2019 healthcare expenses ringing in at $3.65 trillion.
You didn't expect us to be discussing economics in healthcare, did you?
Private practices contribute substantially to total healthcare cash flow while out-of-pocket expenses continue to grow to nearly half a billion dollars.
Nonetheless, it is an unavoidable aspect of business even when drilling down to something as personal as single-member practices. Small businesses make up 44% of the United States economy, which tells us that your clinic's economic impact is more important than you may realize. Patients are a priority, but many attest that it's hard to see patients for free. Switching gears to non-reimbursable activities, which are becoming increasingly common as insurance becomes more challenging to navigate, accounts for $406 billion in spending, with most of that lending to private practice. The more you help, the more expensive it is for the patient. Lower your expenses to provide more help, and you run the risk of a deficit in your budget.
Quite the conundrum, right?
Beware of getting caught up in the expensive hardware (or software while we're at it) healthcare model.
It's tempting to have a cool new toy pitched to be a revenue driver for the business. Granted, there is quite a bit of hardware you absolutely need as part of your standard operation. But what about that $15,000 table-top unit for which you also pay a yearly software license? Even if it is reimbursable, how many tests are required for you to get your money back? The answer varies by practice and state, so this may be less of an ordeal for you and more for someone else.
You know this.
And it's no secret that these hardware systems can be expensive and ultimately necessary to develop to keep this industry progressing. Even software licenses are becoming exorbitantly overpriced to become readily manageable in the clinic. If you onboarded a new software solution that fit your needs every time it was pitched to you, then your cost per patient may start to spiral out of control. One way to manage this is to focus on the impactful and affordable systems that add value to your practice.
But value isn't necessarily money, and we want to keep you in business. So, what's the best approach here?
Borrow big tech's revenue model for your clinic: focus on the small and frequent.
The gig economy is showing us the power of the small but necessary. A little revenue here, a couple of dollars there, sprinkle in some add-ons for pennies on the dollar, and you can grow your business buy double percentage points every year.
This may sound woefully irrelevant to your private practice, but it can be an excellent model while insurance works to catch up with the latest technologies. Let's say you buy into a technology platform at $1,200 per year that you use as part of your standard exam, and you're looking to recoup your out-of-pocket cost. Well, passing just $0.99 onto your patients means you need to use it 1,213 times a year to recoup your investment. Let's say you see five patients per business day (we know it's more but as an example) with 260 business days a year, and you'll see 1,300 patients.  Right there, you just drew a profit, it's not much, but it's a profit.
But this isn't very feasible as we don't nickel and dime patients. Imagine itemizing a bill for $0.99 and sending it to your patient. It sounds ridiculous, and there's a better way.
Price it in, win them back for a follow-up, be efficient with your time.
A better solution is to price your onboarded technology into the visits. Notice I used the plural rather than the singular form for a visit. A marginal cost can still be passed on to your patient but in a way that maximizes value for them and you. Get them in for a quick, yet necessary, follow-up exam or consultation.
Hear me out.
Say you're seeing a patient for dysautonomia, and you're three visits deep while you're continually monitoring progress. There needs to be a reason for that 4th or 5th visit. But it also can't be meaningless for the patient.
Use rapid value-added tests to draw them in as clients and a valid business model while still delivering the best care.
For example, a single 15-minute follow-up exam added to your typical workflow for $50 a pop is both a bargain for the patient experiencing medical challenges and an excellent mechanism to expand your revenue. That's 24, 15-minute exams a year to recoup your cost compared to 1,213, $0.99 tests needed a year.
Pricing-in makes an economic difference for your private practice while still adding substantial value to care and saving time.
Here's another example, broken down with a more typical visit charge for your Functional Neurology clinic with Reflex Pro, an autonomic evaluation tool, as a basis for the model.
Priced-In
Reflex Pro can be priced into your therapies & exams.
Average Cost of Reflex:                                             $1,200
One Reflex Pro subscription for your clinic.
Estimated Visit Cost:                                                  $500
An estimated average visit cost for therapies & exams.
Average Working Weeks per Year:                            40
Estimated working days per year based on 4 out of 7 days a week.
Follow-Ups for Testing per Week:                              2
Number of Reflex Pro-oriented follow-ups per week.
Estimated Additional Income:                                     $40,000
Estimated added income-based of $500 * Follow-Ups * 40 weeks.
Your Estimated Financial Return:                              33x
Recoup the cost of Reflex Pro by an estimated 33x its base cost.
One size doesn't fit all.
These estimations may or may not make sense for your clinic's business model. Maybe you're always booked up on appointments, so squeezing in a few value-added follow-ups with Reflex Pro a week doesn't make practical sense. Thus, this fundamental aspect of using meaningful technology is irrelevant, and you need the right tech for the right thing. That's okay too.
However, take this past year (2020), where COVID-19 rattled the small single-member clinics with patient visits averaging to roughly 60% of expected (and sometimes worse). Technology can open up avenues to keep client flow moving while still managing distancing for such harsh times. An example is Reflex Telehealth that allows autonomic exams remotely, so you get the same value-added care while still being an invoiceable event. There are many of these technologies available, and many have been helping clinics work through these low-volume times.
In any case, there's always a practical way to use new healthcare technology to drive business growth. It would help if you found what works for you.
In summary, healthcare solutions should help you grow your business as a revenue catalyst.
Patients take precedence, over the business. One can't function without the other, so onboarding meaningful test methods can catalyze patient outcomes and business growth. Look to these solutions as to how they might expand your capability rather than being another dollar you pull out of your clinic's wallet. A versatile, rapid, and affordable tool can go a long way in scaling and sustaining your complex clinical business model.
Would you like to learn more? We have a fully curated resource page here.
Feel free to contact us on our contact page to get more information or email us at msouthern@brightlamp.org.
(c) 2020 Brightlamp Inc. | Reflex – PLR Analyzer